Innovating Book Industry - BotTalk is the finalist of CONTENTShift Accelerator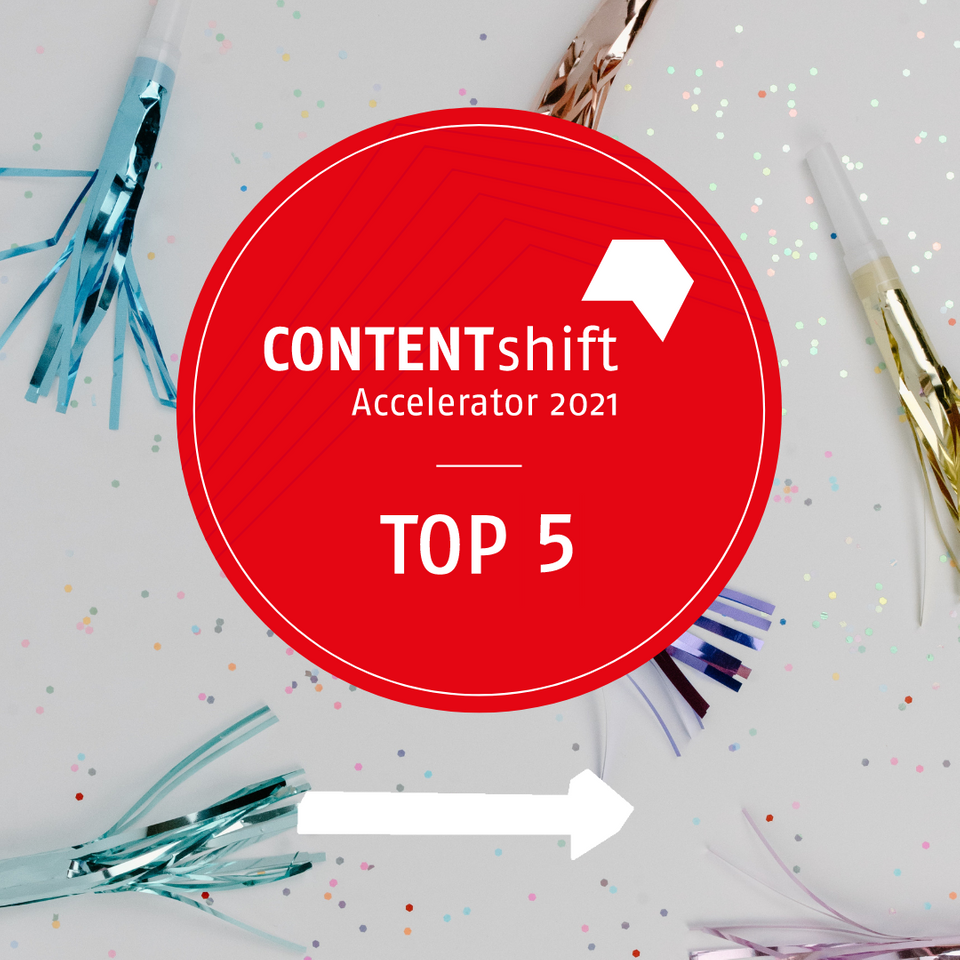 We're thrilled to announce - that after making it to the shortlist (top 10 out of 44) - BotTalk became a finalist of CONTENTShift Accelerator!
Five German start-ups with fresh ideas for the book and media industry have reached the final round of the CONTENTshift Accelerator 2021 sponsorship programme. They came out on top against international competitors and have the chance to win funding of 10,000 euros and the title of "Content Start-up of the Year". Over the next three months, they will participate in the programme, where they will receive individual coaching and exclusive access to an international network of investors as well as start-up and industry experts.
---
Why CONTENTShift Accelerator?
Our time at Next Media Accelerator has shown us how important it is to work with customers together on their problems.
We tested the product-market fit, changed our business model several times, and tested our product directly with publishers.
We now want to repeat this sense of achievement in a new market - and that is why we are so excited about our time in the CONTENTshift accelerator.
Newspaper Publishing and Books Publishing
BotTalk started with the goal of changing the way people read newspapers today.
This goal also made us well-known on the German newspaper market.

Currently we are dubbing the news of Hamburger Abendblatt, NOZ Medien, Augsburger Allgemeine, Hamburger Morgenpost.

That is why choosing the book industry as our next market - was the logical next step.

We believe that audio changes the way we consume text content. There is definitely a content shift (pun intended) happening right now - in the user behavior.

Content is already primarily consumed via audio channels. Be it YouTube videos running in the background or podcasts, which are currently experiencing a boom.

The audiobook market has been snowballing in recent years, but publishers cannot keep up with the demand for audio.

Professional speakers are expensive, production is time-consuming, plus distribution on all channels - from Spotify to smart speakers: these are the main problems that make audio complicated for publishers.

BotTalk solves these problems. Our voices sound very close to human speakers, production takes minutes instead of hours, and we distribute automatically - everywhere.
Text-to-Speech Technology vs. Human Narrator
But can Text-to-Speech technology provided by BotTalk replace an actual narrator?

We believe so.

BotTalk's primary goal - is to provide the quality of Text-to-Speech that is unprecedented on the market.

To prove that ambitious statement in our pitch to CONTENTShift we showed this Demo:
Its' very pleasing for our whole team to hear such warm words from the CONTENTShift's jury spokesperson - Olaf Carstens (Cornelsen Publishing House):
We are dealing with individuals here who are courageously breaking new ground. Their ideas highlight new perspectives for our industry and encourage us to also try unconventional approaches. We are committed to playing our part in ensuring that these endeavours are duly rewarded with success and recognition. In the coming weeks, we will intensively support the finalists with our networks and our know-how so that they can successfully establish their start-ups on the market
---
Case Study:
Text-to-Speech Paywall Integration: BotTalk Case Study with Hamburger Abendblatt
---
Sources
CONTENTShift: Press release: Book industry sponsorship programme for startups: The finalists of the CONTENTshift-Accelerator have been chosen
Börsenblatt: Diese fünf Start-ups bestreiten das Finale
Frankfurt Valley: CONTENTshift-Accelerator 2021: These ten start-ups have made the shortlist