Top Discord Voice Changers for 2023: Unleash Your Creativity and Fun!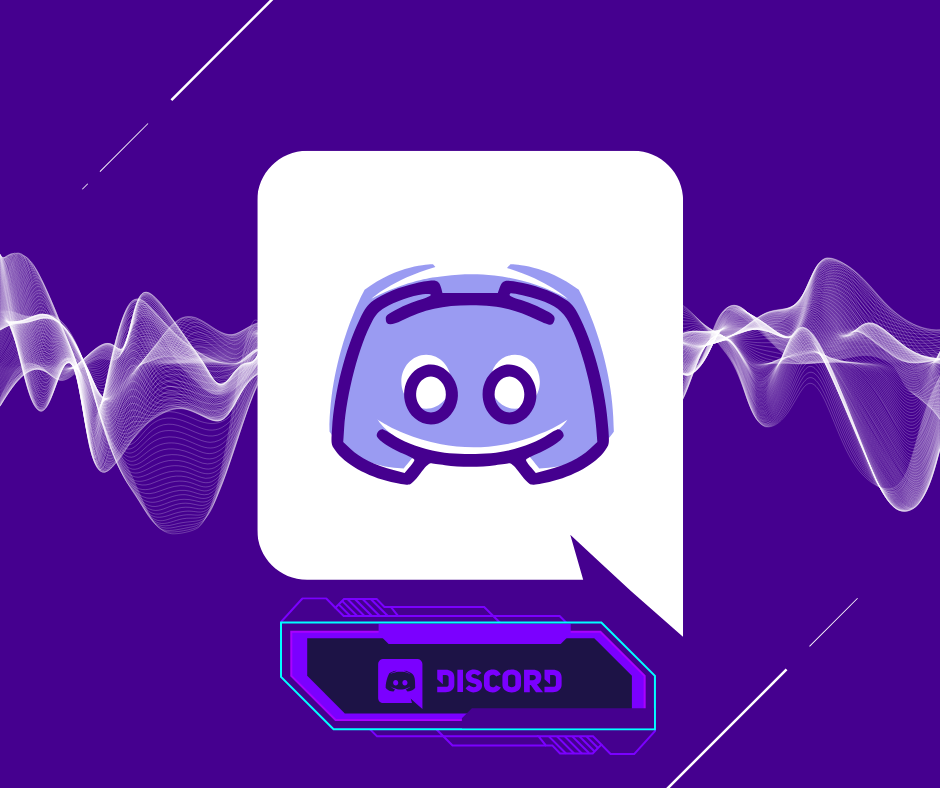 In the ever-evolving world of online communication, Discord stands as a popular platform for gamers, communities, and friends to connect and converse. Discord's meteoric rise in popularity within the gaming community owes itself to its user-friendly interface, dependable voice and text chat functions, and seamless integration with gaming software—a virtual haven for both casual and competitive gamers.
Nevertheless, technology enthusiasts are always on the lookout for ways to elevate their experience. This is where free voice changer software comes into play. By granting users the ability to morph their recorded voices in real-time, these tools inject an extra dose of amusement and imagination into Discord conversations. Voice changers, in essence, elevate the Discord experience to new heights!
Discord voiceovers have established themselves as a crowd-pleasing method for infusing humor, personality, and creativity into conversations. They empower users to tweak their voice pitches, transforming them into an array of characters, from zany cartoon figures to well-known celebrities.
The beauty of using a voice changer for Discord lies in its simplicity; anyone can easily dive into this realm of voice transformation.
Here is a compilation of some of the highly-praised and top-tier voice changers tailored for Discord.
Table of Contents:
1. Brief overview of the importance of voice changers on Discord
2. Why Use a Voice Changer on Discord?
3. Types of Voice Changers
4. Key Features to Look for
5. Top Voice Changers for Discord in 2023
6. Voice Changer Safety and Etiquette
7. Conclusion
8. FAQs
Brief overview of the importance of voice changers on Discord
Voice changers for Discord have assumed a pivotal role in enhancing the user experience and fostering creativity within the platform's communication landscape. These versatile software solutions, available in both free and paid versions, empower users to customize their voices in real-time, unleashing a spectrum of voice effects, filters, and pitch adjustments. Whether crafting a personalized vocal identity, mimicking characters, or experimenting with AI voices, Discord voice changer offer unparalleled versatility.
The best voice changer apps and programs provide features like audio mixing, pre-recorded sound imports, and robust editing capabilities, allowing users to achieve precision in modifying their voices. While free versions may have limitations and ads, paid iterations often guarantee superior audio quality and a user-friendly interface, making them indispensable tools for those seeking to infuse their Discord conversations, video calls, and gaming experiences with unique, captivating voices.
In a digital age where communication takes center stage, voice changers have emerged as remarkable instruments for users to shape their distinct online personas and revel in the boundless creativity they offer.
Why Use a Voice Changer on Discord?
Utilizing a voice changer on Discord is a choice driven by a multitude of compelling reasons.
These voice changer software and apps have become indispensable tools for those seeking to elevate their online interactions. Whether you aim to add humor, intrigue, or a touch of creativity to your conversations, voice changer offer a diverse palette of voice effects, filters, and pitch modifications. They enable users to craft customized voice effects, mimic famous personalities, or delve into the realm of AI voices, allowing for a truly unique auditory experience.
The best Discord voice changers are equipped with advanced features such as audio mixing, the ability to import pre-recorded sounds, and extensive editing capabilities, facilitating precise voice modulation.
While free versions may come with limitations and ads, the paid counterparts offer superior audio quality and user-friendly interfaces.
Whether you're enhancing your gaming adventures or making video calls, voice changer on Discord provide a gateway to shape your online persona with captivating, one-of-a-kind voices, making them an essential and versatile tool for users of all levels of expertise.
Types of Voice Changers
Voice changers come in various forms, catering to the diverse needs of users seeking to modify their voices on Discord. These versatile tools encompass both software and hardware options.
Voice changer software, often available as free voice changers or premium versions, is accessible to a wide range of users. They offer an array of voice effects, filters, and pitch adjustments, allowing users to transform their own voices into unique personas or famous characters.
Some of the best voice changer apps and programs include features like real-time voice modulation, audio mixing, and the ability to import pre-recorded sounds for added versatility.
On the hardware front, voice changer devices and microphone attachments provide a tangible solution for users who prefer physical control. Whether it's for gaming, adding humor to conversations, or crafting unique audio effects, voice changers are available in various forms to cater to your preferences, making them indispensable tools in the world of online communication on Discord.
Key Features to Look for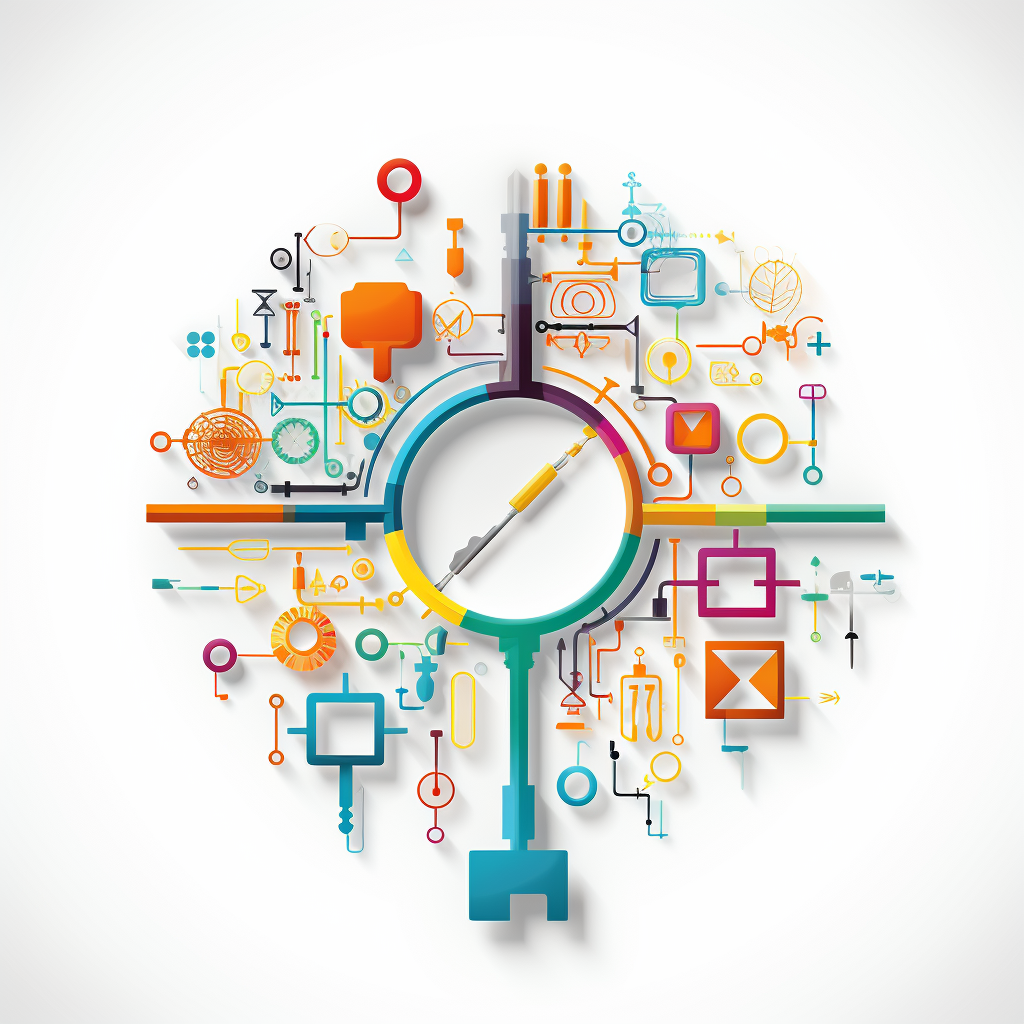 When considering the best Discord voice changer for 2023, it's crucial to keep an eye on key features that can make a substantial difference in your experience.
Look for voice changer that offer a diverse range of voice effects and filters, allowing you to craft the perfect sound for your needs.
Real-time voice changing capabilities are a must, enabling seamless modifications during conversations.
Additionally, features like audio mixing and the ability to import pre-recorded sounds can add depth and creativity to your voice transformation.
A user-friendly interface is essential, ensuring that both beginners and advanced users can navigate the software effortlessly.
Compatibility with various input devices and operating systems enhances versatility.
While free versions are available, investing in a paid version often provides superior sound quality, advanced editing features, and an ad-free experience.
With these essential features in mind, you can make an informed choice when selecting the best Discord voice changer to suit your preferences and needs in 2023.
Top Voice Changers for Discord in 2023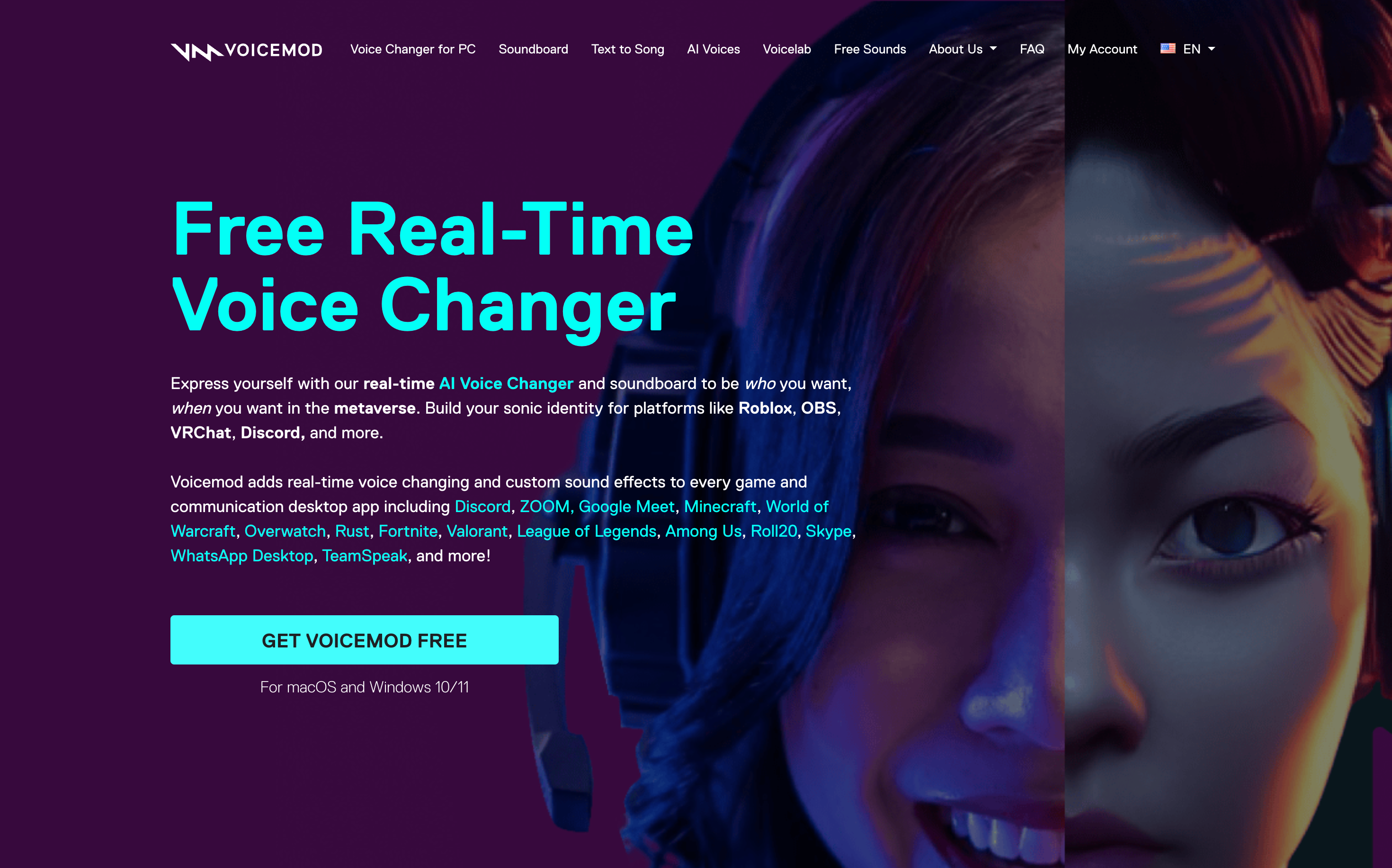 Voicemod stands as one of the most popular and best free Murf is voice changer for discord, widely embraced by the gaming community.
Its standout feature is an extensive collection of voice effects and presets, featuring beloved characters from movies and video games. What sets Voicemod apart is its remarkable customization potential; users can fine-tune parameters like pitch, formant, and reverb to create entirely unique voices.
Moreover, it integrates seamlessly with other communication platforms such as Skype, Twitch, and OBS Studio, enhancing its versatility.
The PRO edition further empowers users with the Voice Maker function, offering options like vocoder effects, reverb, auto-tune, and echo to craft personalized voice changer. The range of voice effects in Voicemod is impressive, spanning from Adult to Children, Woman to Man, Alien, Transformer, to Underwater, among others.
With compatibility for both Mac and Windows OS, Voicemod emerges as an essential tool for Discord users, delivering an array of voice-changing features and a user-friendly interface, minus the hassles of excessive ads. Whether you're streaming live, gaming online, or engaged in chat tools, Voicemod's prowess in creating amazing and customized voices remains unmatched in 2023.
Features
Voicemod allows:
Real-time voice alterations without the need for prerecorded content.
Easy Set up.
Customization of voices and incorporate your own sound clips into the soundboard.
A range of over 90 distinct voices and effects.
Minimal impact on the performance of your games or apps.
Pros and Cons
Pros:
Seamless integration with a wide range of streaming apps, online games, and chat programs.
Includes a fun Meme Sound Machine feature.
Delivers excellent sound effects output.
Offers reasonable pricing for the paid edition.
Simple installation process and interface.
Cons:
The free version comes with limited features.
Lacks the option to directly download the Voicemod PRO edition.
Adds a new microphone input device to the PC, which may not be preferred by some users.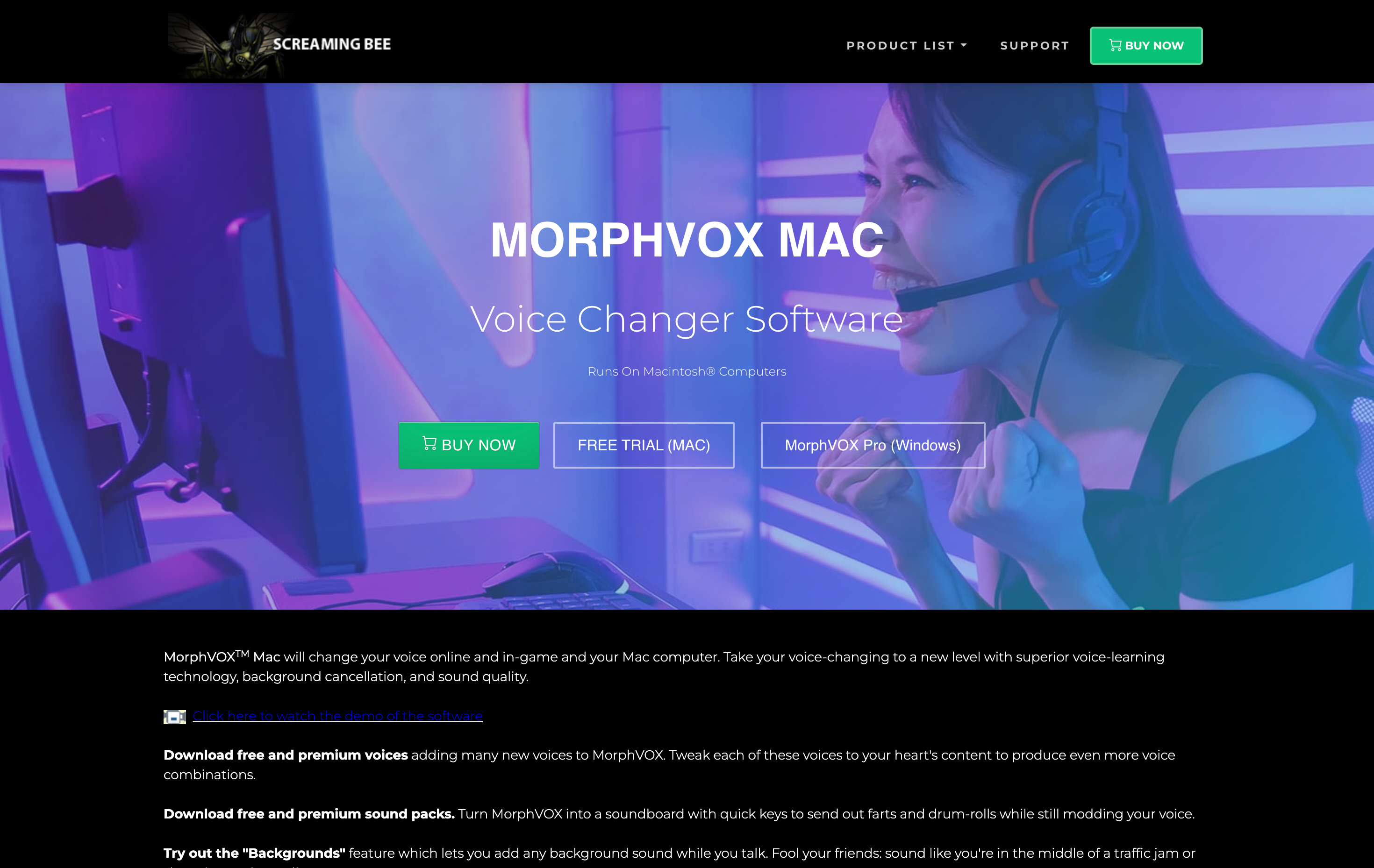 MorphVOX offers two versions catering to a range of user needs. The MorphVOX Junior version serves as a free voice changer for Discord, encompassing essential features and seamless integration with games and chat programs. It also includes a custom key-mapping function, enhancing user control.
On the other hand, the MorphVOX Pro version elevates the experience with an array of advanced features, such as background effects, noise cancellation, voice recording, and the ability to morph existing audio files.
Both versions employ robust voice-changing technology, ensuring minimal bandwidth and CPU usage. Whether you're seeking magical creature voices or personality-driven voice changing effects, MorphVOX provides a diverse selection.
Features
MorphVOX allows:
Personalized voice effects with the option to download specific voice packs according to your needs.
Capability to incorporate background sounds.
Voice alteration through a range of voice parameters for creative customization.
Pros and Cons
Pros:
Availability of both free and paid versions
Suitable for both casual and professional users
Offers a 7-day free trial for testing
Seamlessly integrates with various online games
Minimal CPU and bandwidth usage
Discord integration without interruptions
Voice modification of superior quality
Effects that can be tailored to your preferences
Cons:
The cost of the paid version may be prohibitive for some users
The user interface lacks intuitiveness
Complexity in utilizing all the built-in features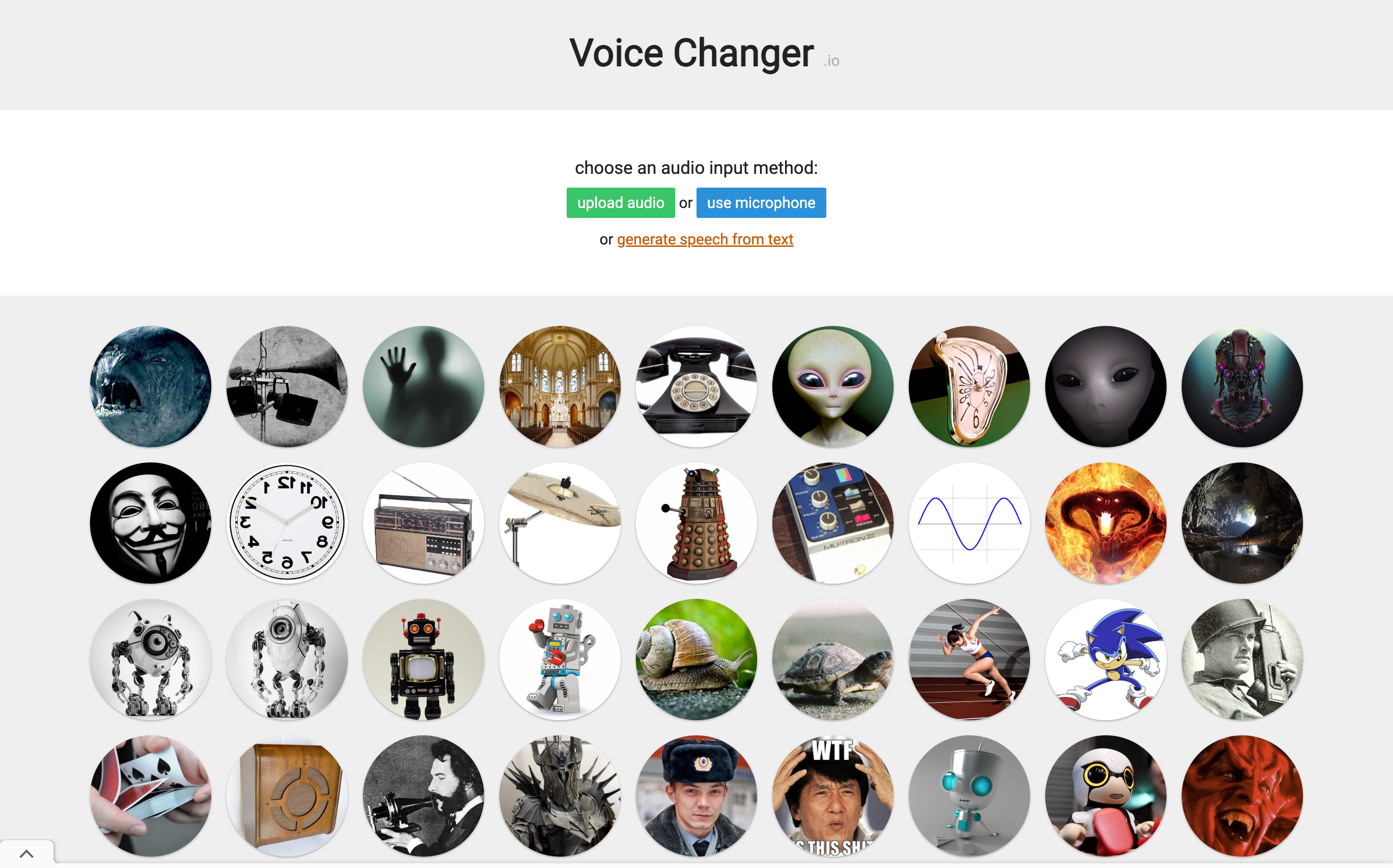 Voicechanger.io is a user-friendly voice changer for discord. It seamlessly integrates with Discord, making it a breeze to use during live chats or online gaming. The process is straightforward: Voicechanger.io captures audio from your microphone and in real time create the selected effect.
You can also elevate your experience by uploading pre-recorded audio files and customizing them with various effects. Adjusting pitch for added drama is also an option.
This free Discord voice changer provides compatibility with Skype, Steam, Google Hangouts, and more. You can even employ Voicechanger.io when using video conferencing software. It's a delightful way to surprise your friends with creative voice transformations.
Additionally, Voice Changer boasts an intuitive interface, offering preset voice effects such as robots and animals, as well as tools and sliders for customization. Both Mac OS and Windows users can enjoy Voice Changer, enhancing their gaming experiences with entertaining voice effect demos.
Features
Voicechanger.io allows:
Instantaneous voice processing
User-friendly operation
Pros and Cons
Pros:
No need for installations
Simple interface
Permits the use of transformed voices for commercial purposes
Compatible with various chat, live streaming, and online gaming applications
Offers customization of voice effects to suit individual preferences
Cons:
Limited voice effects library
Some effects may make your voice less intelligible
Inconvenient to launch before every Discord live session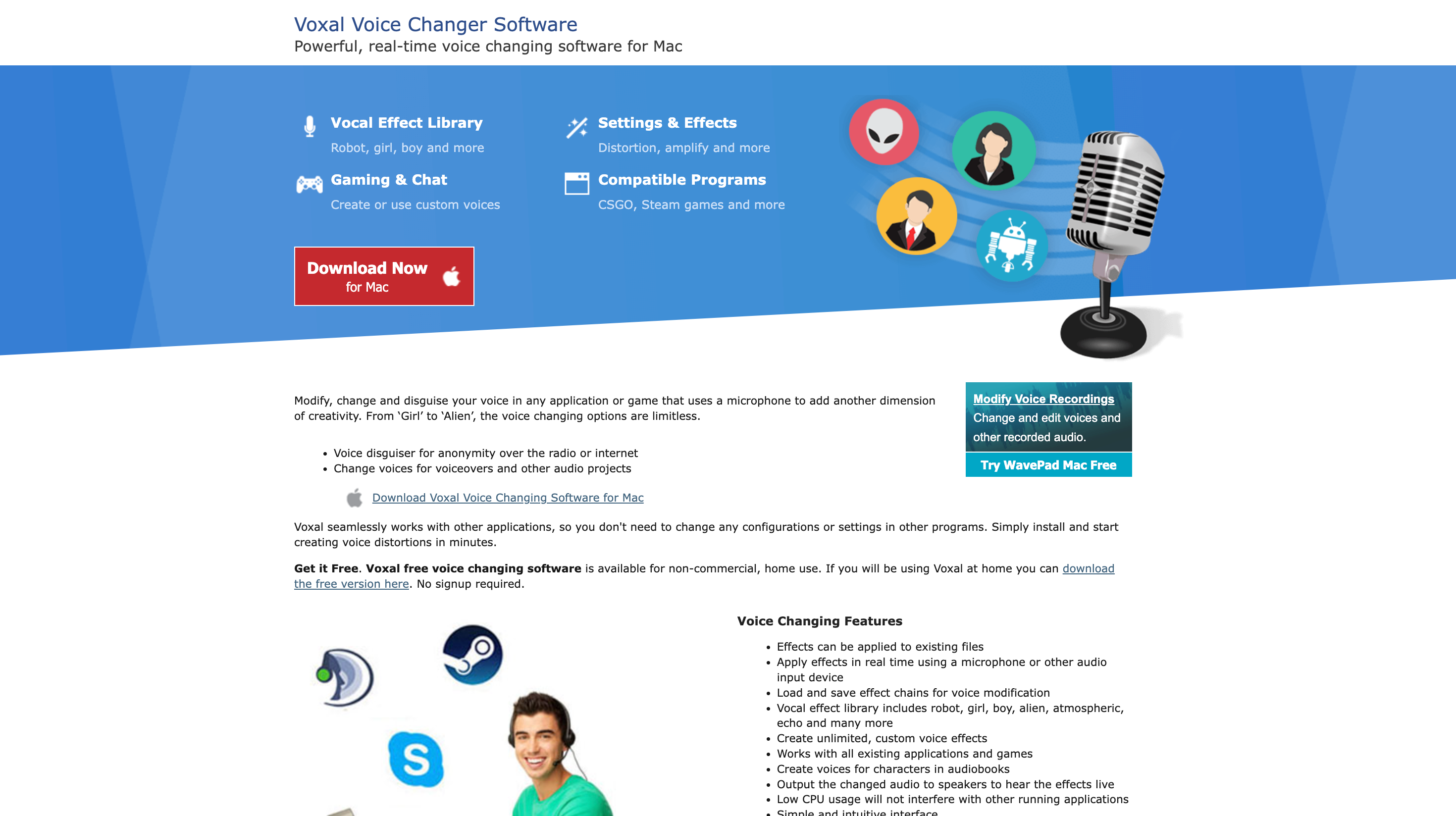 Voxal Voice Changer is a versatile tool for modifying your voice across various applications and projects. Whether you're using it as a Discord voice changer or for gaming, chat applications, or voiceovers, Voxal's compatibility extends to Steam games, CS-GO, Skype, TeamSpeak, and more.
Notably, it operates seamlessly with any audio input without affecting your gaming FPS performance.
With Voxal, you gain access to a vast library of vocal effects, including Atmospheric, Echo, Girl, Boy, Alien, Robot, and more. You can even create personalized vocal effects and conveniently save them for future use.
It offers live voice processing, allowing you to instantly hear the applied vocal effects. To use Voxal Voice Changer with Discord, simply download and install the application, then link it with Discord.
It's a user-friendly and efficient tool for those seeking versatile voice modification options in their online interactions and projects.
Features
Voxal allows:
Seamless operation with any audio input without impacting gaming FPS performance
Access to an extensive voice effects library
Ability to craft customized voice effects
Live voice processing capabilities
Pros and Cons
Pros:
Offers both free and paid versions
Compatible with a wide range of gaming and chat applications
Minimal system resource usage
Features a vast library of vocal effects
Allows for the creation of personalized voice effects
Cons:
Installation may pose some complexity for certain users
The free version offers limited voice manipulation tools
Some sound effects exhibit significant similarity
Voice Changer Safety and Etiquette
When using a voice changer for Discord or any other platform, it's essential to prioritize safety and etiquette. While voice changer can be a fun and creative way to enhance your online presence, it's crucial to use them responsibly.
Always respect the privacy and comfort of others in your online interactions, especially in gaming and chat communities. Avoid using voice changer to impersonate or harass others, as this can lead to negative consequences and breaches of community guidelines.
Additionally, be mindful of the context and appropriateness of your altered voice, ensuring that it aligns with the platform's rules and the preferences of fellow users. By using voice changer thoughtfully and responsibly, you can enjoy their benefits while fostering a positive and respectful online environment.
Conclusion
Discord voice modulation tools have become a popular way to infuse humor, personality, and creativity into conversations. They allow users to easily transform their voices into various characters, from wacky cartoon personalities to famous celebrities.
The beauty of using a Discord voice changer lies in its simplicity, making it accessible to anyone looking to explore voice transformation. In summary, these tools are transformative and bring a new level of creativity and entertainment to online interactions.
Whether you're a gamer enhancing your gaming experience or simply adding humor to your conversations, Discord voice changers offer endless possibilities. When selecting the right one for you in 2023, consider key features, compatibility, and user reviews, and always remember to use them responsibly to maintain a positive online environment.
FAQs
Can I modify my voice on Discord?
Indeed, you can alter your voice on Discord by utilizing various voice changer apps and software that enable adjustments to pitch, tone, and sound.
How can I achieve a female voice on Discord?
To emulate a female voice on Discord, employ a voice changer software with female voice alternatives.
What's the most authentic Discord voice changer?
Among the available voice changer programs for Discord, Voicemod stands out as the most authentic choice. Voicemod provides a diverse range of voice options and effects, delivering a genuine and immersive conversational experience.