Everything you need to know about Audiobooks in 2022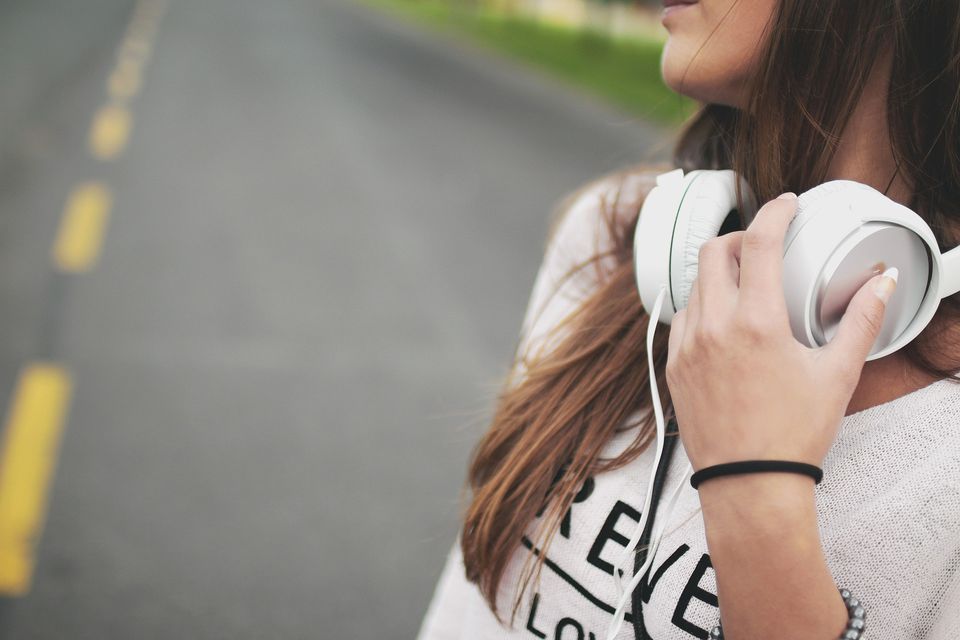 Audiobooks have gained more and more popularity over the last few years - and not for nothing! They are a great medium that gives people easy, convenient, and digital access to book content!
Since they are digital and easily accessible to all, the demand (and supply) for audiobooks has increased in recent years.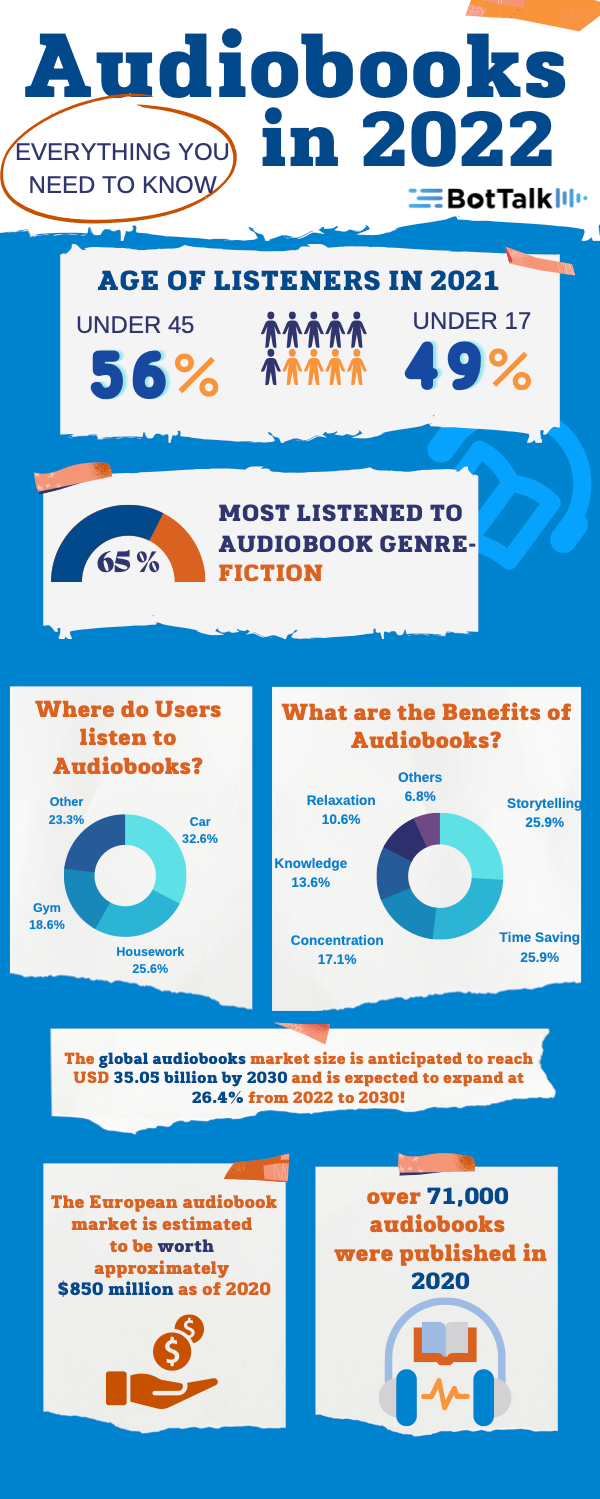 Primarily, due to the corona pandemic, the market for audiobooks has grown significantly again!
Global lockdowns and social distancing norms have allowed libraries and publishers to expand their audiobook and ebook businesses. Many professional associations have partnered with audiobook and ebook providers to provide digital books that are easily accessible to libraries and bookstores.

Audiobooks are beneficial for people who have reading or visual disabilities, who prefer to multi-task, or for those who would like to experience a book in a foreign language.

In summary: Audiobooks are a hit!

Here are the essential numbers and facts about audiobooks in 2022:

---
Key Audience
According to the Businesswire Blog, 56% of audiobook listeners were below the age of 45.
From those, listeneres, below the age of 17, included 49% in 2021.

Audiobooks are growing in popularity among younger generations. This is expected to drive the market growth.
People are likely to encourage their families and inspire their peers to listen to more audio books, leading to a larger pool of potential customers. In addition, the demands of various age groups for the audiobook genre will be different, opening up a variety of prospects for the audiobook market, statistics say.
Last but not least, the global trend of digitization is one reason for the steady growth of books.
---
Revenue
Audiobook Sales Statistic state:
The European audiobook market is estimated to be worth approximately $850 million as of 2020
Growing at a rate of ~19% each year, the European market is expected to grow by $1.23 billion by 2025 to a total of $2.08 billion
The global audiobooks market size is anticipated to reach USD 35.05 billion by 2030 and is expected to expand at a CAGR ( Compound annual growth rate) of 26.4% from 2022 to 2030
---
Genre
In 2021, the fiction genre remained the most popular in audiobooks, accounting for around 65.0% of the total revenue share.
This can be partially explained by the lack of nonfiction audiobooks that exist on the market.

The non-fiction segment is expected to grow the fastest at a CAGR of 27.7% from 2022 to 2030.
This is due to the fact that audiobooks are widely used as learning material for pupils, students or simply inquisitive people. On the one hand, to be able to acquire knowledge quickly and easily (for example, during a walk or a bus ride) and, on the other hand, to create screen-free time.
The nonfiction genre includes academic textbooks, travel guides, self-help books, biographies, autobiographies, memoirs, and others.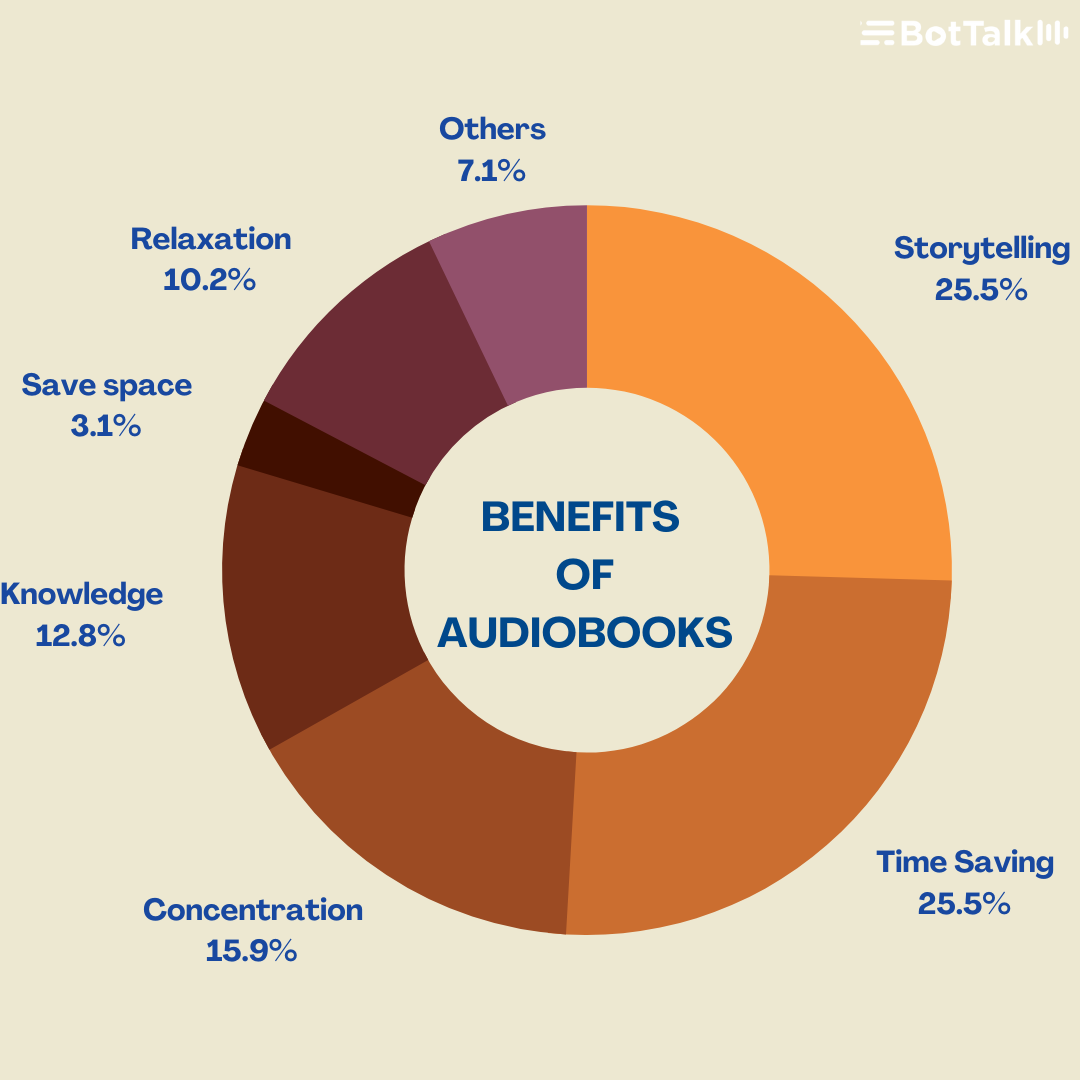 ---
Usage
55% of the users listened to audiobooks mostly at home, followed by 30% of users listening to audiobooks in cars, says Businesswire Blog
70% of consumers agree audiobooks are a good choice for relaxing.
Daily audiobook listeners spend more time listening to books than any other form of audio (radio, podcasts, and so on). This was determined by Audio Publishers Association's Sales Survey
---
Future
Meanwhile, there is an opportunity for amateur writers, narrators and publishers to create good quality audio books quickly and easily using simple tools.

This, along with the use of digital tools, will drive the audio market in the coming years.
These include, for example, SEO tools that help audio books to be found by readers and, above all, the use of AI in the text-to-speech area!

The number and quality of startups dealing with TTS for audio books is increasing and will continue to do so in the future.
---
The advantages that TTS brings are unavoidable, it is
faster,
cheaper
more efficient
And it opens up way more innovative possibilities and makes Audiobooks more accessible
It makes it possible to set non-fiction books and textbooks to music, which are in great demand among schoolchildren and students.
Read more about the advantages of TTS
According to Bookwire, an internationally leading enterprise in the digital publishing technology sector and service provider for publishing houses:
"TTS gives publishers a new way of producing audiobooks.
The quality of the synthesised voices used for TTS has improved enormously in recent years. Auto-narrated audiobooks are in no way intended to replace classic audiobook production with trained, human narrators, but non-fiction content and textbooks, in particular, benefit from the more cost-effective version of audiobook production, TTS.
TTS should therefore be understood as a complement to high-quality audiobook production using human narrators.
To find the right AI for creating the audiobook, different timbres and unisex voices can be chosen for each of the approximately 70 languages offered" ,says Bookwire!
Find out more about Audiobooks at Bottalk.io!